[ FUTUREWARE | DEFKON | WÜRSTELSTAND | *QUICK | DOWNLOAD | INTERN | MIRRORS | PHILIPP GÜHRING ]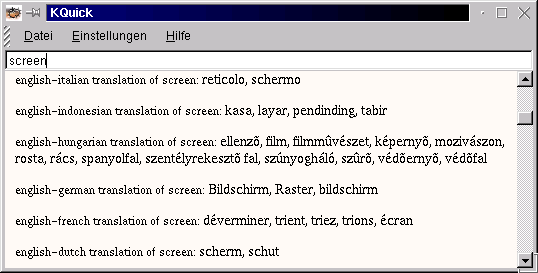 KQuick is an open translation system to translate words between languages, resolve acronyms, and lookup numbers. KQuick is the first User-Interface of the *Quick system. Other user interfaces, for Windows (WQuick), Gnome (GQuick), ... will follow.
Why is it open?
Because you can easily integrate your own data, and the sourcecode of the program is under the GPL.
News
Version 0.9.2:
Font problems hopefully solved.
Warning: Please copy only the engto*.dic and the english.dic from the data directory. All the other files will crash KQuick.
For the versions <= 0.9 Bug reports informed us that the following things were unclear:
Don´t forget the case sensitivity of the filenames in Linux. (/usr/share/trans/babylon) You need QT 1.4x to compile the sourcecode of KQuick For the versions >= 0.9.1 You need QT 2.2.x to compile the soucecode of KQuick
Download
Vergessen Sie nicht, auch die Datenbanken zu installieren. IMPORTANT: THE DATABASES ARE IN .ZIP FORMAT, SO PLEASE INSTALL THEM UNDER LINUX THE FOLLOWING WAY:
mkdir /usr/share/trans
cd /usr/share/trans
unzip eng-deu.exe
unzip eng-eng.exe
unzip ...
The usage of KQuick is very simple: Just start it. Then mark a the word/acronym/number you want to have translated. Then look at the KQuick window.

KQuick offers the feature to protocol all your queries. You can then send the protocol back to the developers so that the databases can be improved.

The operation system should be Linux or another Unix with KDE.

If you have any further questions, ideas, ... please feel free to contact us.