[ FUTUREWARE | DEFKON | WÜRSTELSTAND | *QUICK | DOWNLOAD | INTERN | MIRRORS | PHILIPP GÜHRING ]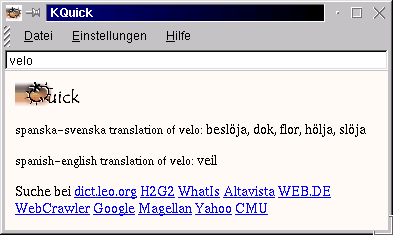 *Quick is an open translation system to
translate words between languages (What is Sauerkraut in English?),
resolve acronyms (What is AAAAAA?),
lookup (error)numbers (What is 404?),
name postal codes (Where is the place with the postal code 90210?),
and many more.

Just try it right now, right here: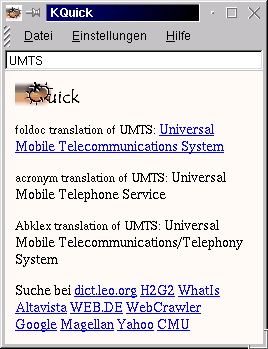 If you liked that
then you have now the following options:

Copy the following text into your own homepage, to make *Quick easily useable for your visitors:

<form action="https://www2.futureware.at/cgi-bin/quick" method="get">
Search: <input size=40 maxlength=40 name="q">
</form>

Download *Quick to you computer
And then you have to download the databases in any case.
All databases are provided as selfextracting .ZIP archives. You just need to start them under Windows. Under Linux/Unix, you can call unzip FILENAME to unzip it.
If you still want to know more about *Quick ...
... then you should have a look at the Background Infos.

If you have any further questions, ideas, ... please feel free to contact us.